A READER RECIPE: PALEO BANANA BREAD
If you're a Paleo diet devotee, then you'll love this recipe for Paleo banana bread from FitSugar reader AllieNic
.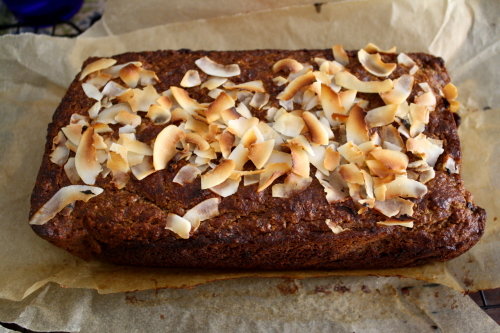 Too Good Paleo Banana Bread
Ingredients:
3 very ripe bananas
5 Medjool dates
5 Tbsp warm water
3 eggs
2 cups almond flour
1/4 cup coconut oil
1 tbsp coconut flour
1 tsp cinnamon
1 1/2 tsp vanilla extract
1 tsp baking soda
1/2 tsp sea salt
Unsweetened coconut flakes for sprinkling
Read on for the rest of the recipe!
Directions:
Preheat the oven to 350 F and line a bread pan with parchment paper.
In your food processor, combine the dates and warm water. Make sure to pit your dates first, or else this step will make a lot of noise and be very frustrating. Process until you have formed a nice date paste. Add the bananas and vanilla and process until just combined.
Pour the banana mix into a bowl and add your coconut oil, and eggs — mix until evenly distributed.
In a small bowl, combine all dry ingredients. Gradually add the dry ingredients to the wet while constantly stirring.
Pour the batter into the bread pan and sprinkle some coconut flakes on top for garnish.
Bake for 45 to 50 minutes or until edges have browned and a toothpick inserted in the center comes out clean.
Cool on a wire rack, and enjoy with some pastured butter on top!